It all starts with a substrate
Compound semiconductor substrates are the base material from which all photonics and wireless devices are fabricated. Also known as a wafer, the substrate is composed of a unique combination of two elements from columns III and V of the Periodic Table. Widely used compound semiconductors include InP, InAs, GaSb and InSb.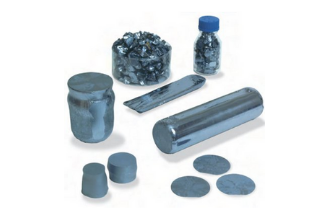 A substrate provides the foundation upon which all microelectronic devices are built. It is the base material upon which epitaxial layers are deposited to form structures which in turn undergo many microfabrication processes which ultimately lead to the formation of the end product. This could be in the form of a chip, be it a GaAs VCSEL for smartphone 3D sensing, InP laser for high speed broadband internet or a GaSb sensor array for aircraft night vision; it all starts with a highly engineered starting substrate material made by IQE.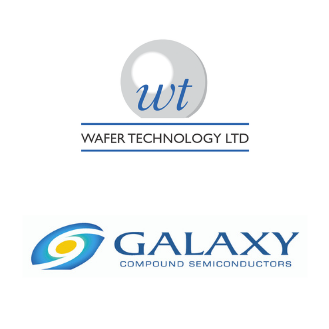 An Industry Pioneer
IQE has a long and well established history in the manufacture of GaAs, InP, GaSb, InSb and InAs compound semiconductor substrates and offers the widest product range in the industry. Through its Wafer Technology and Galaxy Compound Semiconductor subsidiaries, an unrivalled choice of material types and product forms are offered which enables the company to serve a very broad and diverse range of device technologies and end markets.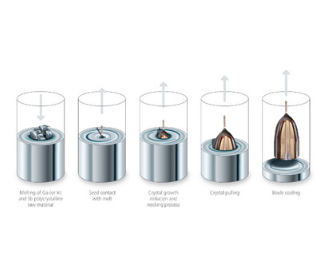 Our substrate manufacturing locations in Milton Keynes, UK and Spokane, WA, USA offer an industry leading range of compound semiconductor production technologies; high and low pressure Czochralski growth, horizontal synthesis chambers (for polycrystalline material production) and vertical gradient freeze furnaces.
2" to 6" wafering equipment includes an extensive installation of sawing tools, precision edge rounders and automated laser marking equipment. Epitaxy-ready polishing is performed in class 10,000, class 1,000 or better cleanroom areas. An advanced suite of in-house materials characterisation tools are used to ensure product quality and conformity, including Surfscan, high resolution X-Ray diffractometry, ellipsometery, atomic force microscopy and x-ray topography.
Collectively, our flexible substrate manufacturing footprint enables us to serve the requirements of our customers whatever their volume needs; whether at the level of R&D materials development or in high volume production at substrate diameters up to 6" in size.
Substrate Products
IQE offers the following range of compound semiconductor materials in single crystal substrate, ingot and polycrystalline forms. Additionally, we also offer a range of specialist application products and high purity MBE source materials.
IQE substrate products:
GaAs
InP
InAs
InSb
GaSb
CZT
Custom Size or Geometry Wafers
Polycrystalline Materials
High Purity Group III/V Source Materials
Bespoke Orientation Substrates
Please click here to request a quotation for Substrates, Polycrystal or Source Materials.