IQE - The Scaled Global Epitaxy Leader
IQE's operations are geographically diversified at nine sites across three continents. We are pleased to offer a broad product portfolio across our multi-site operations, and in 2019 a significant investment in our global infrastructure capacity expansion programme was completed, which increased our site capacity and allows us to serve new and emerging high-growth markets globally.
Where We Operate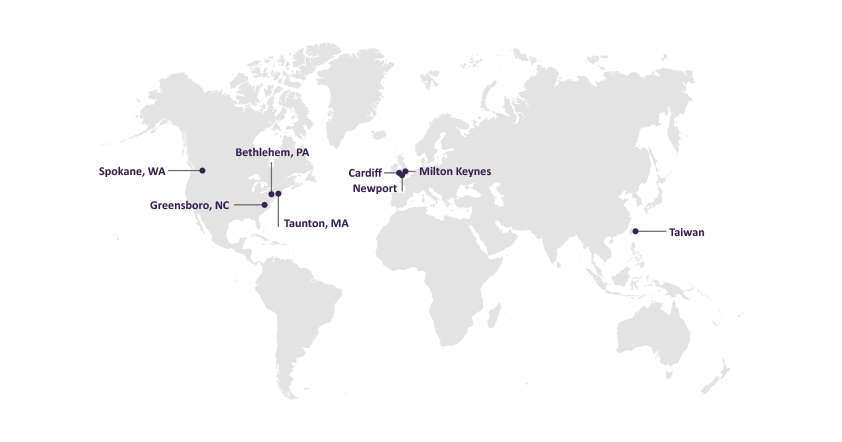 Our Site Capabilities
IQE manufactures using Metal Organic Chemical Vapour Deposition (MOCVD), Chemical Vapour Deposition (CVD) and Molecular Beam Epitaxy (MBE) technologies as well as Czochralski (Cz/LEC) and Vertical Gradient Freeze (VGF) techniques for the production of substrate materials. A production breakdown can be found in the site capability matrix below. For more information please see Innovation.
| | | | | | | | |
| --- | --- | --- | --- | --- | --- | --- | --- |
| Our Site Capabilities & Technologies | MOCVD | MBE | CVD | Cz/LEC substrates | VGF substrates | Wireless | Photonics |
| Cardiff, UK (HQ) | ✓ | | ✓ | | | ✓ | ✓ |
| Newport, UK | ✓ | | | | | | ✓ |
| Milton Keynes, UK |   | | | ✓ | ✓ | | ✓ |
| Spokane, WA, USA |   | | | | ✓ | | ✓ |
| Taunton, MA, USA | ✓ | | | | | ✓ | ✓ |
| Bethlehem, PA, USA | ✓ | ✓ | | | | ✓ | ✓ |
| Greensboro, NC, USA |   | ✓ | | | | ✓ | ✓ |
| Taiwan | ✓ | | | | | ✓ | ✓ |