IQE - uniquely positioned as the scaled global epitaxy leader
As the world's only pure play epitaxy provider with a global footprint , we are critical enablers of the digital world. IQE's operations are geographically diversified at eight sites across three continents, offering customers the industry's broadest product portfolio, supply security and scalability.
Where we operate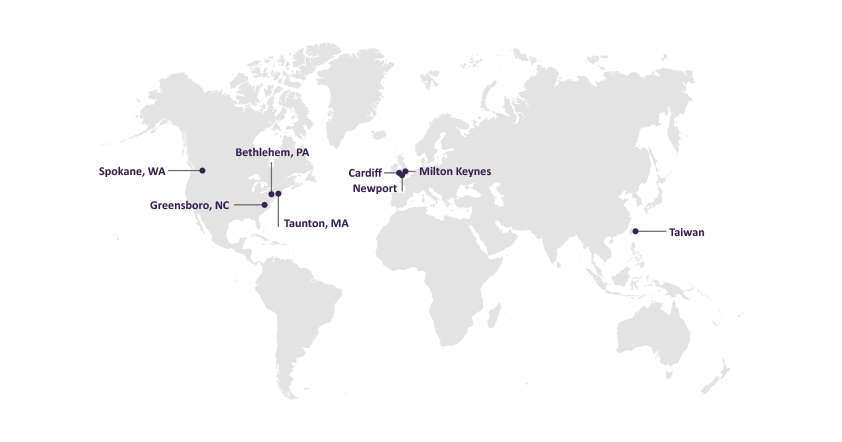 Our site capabilities
IQE manufactures using Metal Organic Chemical Vapour Deposition (MOCVD), Chemical Vapour Deposition (CVD) and Molecular Beam Epitaxy (MBE) technologies as well as Czochralski (Cz/LEC) and Vertical Gradient Freeze (VGF) techniques for the production of substrate materials. A production breakdown can be found in the site capability matrix below. For more information please see Innovation.
| | | | | | | | |
| --- | --- | --- | --- | --- | --- | --- | --- |
| Our Site Capabilities & Technologies | MOCVD | MBE | CVD | Cz/LEC substrates | VGF substrates | Wireless | Photonics |
| Cardiff, UK (HQ) | ✓ | | ✓ | | | ✓ | ✓ |
| Newport, UK | ✓ | | | | | | ✓ |
| Milton Keynes, UK |   | | | ✓ | ✓ | | ✓ |
| Spokane, WA, USA |   | | | ✓ | | | ✓ |
| Taunton, MA, USA | ✓ | | | | | ✓ | ✓ |
| Bethlehem, PA, USA | ✓ | ✓ | | | | ✓ | ✓ |
| Greensboro, NC, USA |   | ✓ | | | | ✓ | ✓ |
| Taiwan | ✓ | | | | | ✓ | ✓ |