Why IQE?
IQE is the world leader in the development and production of compound semiconductor materials. With a global high-tech manufacturing presence, the company is positioned for exceptional growth. The market for compound semiconductors is at an inflection point. The superior performance of these materials is resulting in expanding applications, driven by the roll out of 5G and proliferation of connected devices.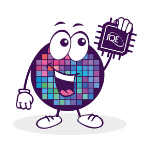 With 30 years of experience in these advanced materials, unique IP and knowhow, an enviable market share, established supply chain relationships and having invested in significant relevant production capacity, IQE is uniquely placed to capitalise on this market growth in the coming years.
Here is where you will find out more about us, our vacancies, and what it's like working at IQE. You'll also get first-hand experience from our team on your potential career.
If that's not enough to persuade you, feel free to get in touch with our Resourcing Team at TalentAcquisitionTeam@iqep.com, or any of our team for that matter. We're a fully transparent company and we are here to answer all of your questions.