Our business model
The adoption of IQE's world leading technologies is being fuelled by the macro trends of 5G communications and connected devices.
These trends require the superior performance of compound semiconductor technologies to operate at higher frequencies, higher power ranges and to emit and detect light. We believe that future demand for compound semiconductors will underpin significant growth for IQE, and our business model is focused upon leveraging our strengths to sustainably deliver value to all of our stakeholders.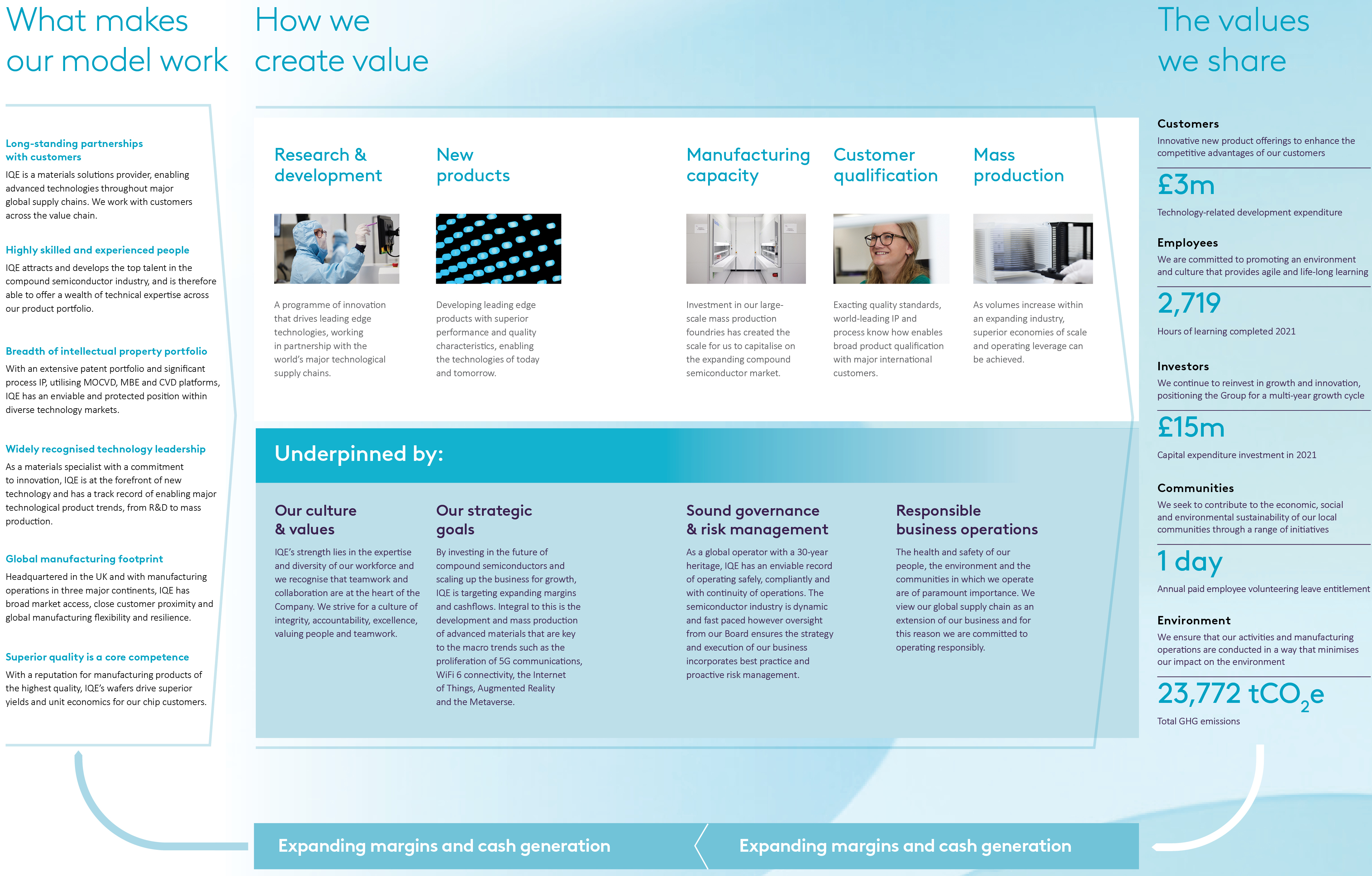 Competitive advantages
IQE is committed to technological leadership through research and development. We are able to offer innovative new products and technologies that meet the needs of our customers. Throughout our history, R&D at IQE has been strengthened by the company's organic growth, global acquisitions and strategic partnerships. Today we are recognised as technology leaders and IQE continues to attract the brightest and best talent in our industry.
IQE's leadership as a materials solutions provider is underpinned by a comprehensive IP portfolio born out of 30 years of experience. IQE actively patents its technology when appropriate and due to the central importance of IP, IQE has a dedicated Technology Group that manages this rapidly expanding portfolio. The portfolio is focused on protecting the Group's key Technology Platforms which are applicable across a broad range of markets and is expanding year-on-year. Uniquely, this makes IQE a "one stop shop" for our products at a time when customers are increasingly seeking multiple material solutions to meet expanding and diverse end markets.
IQE's long-term success relies on enabling customers through new, innovative products. In order to ensure that the right products are developed and introduced, IQE uses a rigorous phase-gate governance framework. This framework ensures that all relevant functional groups of the company, such as our Business Units, Technology, Operations, Finance and Quality, contribute their expertise. This ensures IQE's New Product Introduction is efficient and effective, enabling significant growth and return on investment.
Global Manufacturing Capacity
IQE has the ability to leverage its global manufacturing footprint by qualifying tools in multiple production locations worldwide. IQE manufactures across three continents using both Chemical Vapour Deposition (CVD), Metal Organic Chemical Vapour Deposition (CVD) and Molecular Beam Epitaxy (MBE) technologies. This unique global reach allows IQE to be well-positioned to adapt to changes in global technology markets, and being in close proximity to our international customers helps ensure security of supply in their chosen location. Our diversified footprint also enables the company to forge links with academic institutions and research establishments worldwide.
The global semiconductor industry operates to exacting standards, requiring ultimate product quality with uncompromising reproducibility and repeatability. Each of our advanced epitaxy tools has to be "qualified" in order to be released for production in any supply chain. This is because the complexity of the technology creates an inherent risk of microscopic variations between wafers in the same production run, as well as from run-to-run. Any process or product variations can have dramatic and costly implications downstream. For each new product, it is necessary to qualify raw materials, equipment and processes and procedures, and each qualification process can take many months to complete, with products being fully tested across multiple platforms and downstream processes.
The Customer Qualification process represents a significant investment for IQE and our customers, both financially and in respect to the time required for completion, so once a product and relationship are established, this becomes a significant barrier to entry for competitors.
IQE also offers its customers the advantage of economies of scale. IQE has created a competitive advantage through superior quality, scale and a strategy of serving the entire market as a materials solution provider. Achieving low-cost chip production necessitates high quality wafers, as wafer defects translate into lost capacity and low yields for chip makers. This model drives significant financial business value for IQE's chip manufacturing customers because of the superior unit economics generated by IQE's investments in mass production. As volumes grow, IQE's operational gearing affords significant scope for margin expansion and cash generation.
As a pioneer of compound semiconductor technology, IQE has developed an unparalleled and comprehensive breadth of technology and advanced production platforms.
During our thirty year history, we have also developed an unparalleled depth of specialised process knowhow and expertise in the development and manufacture of highly advanced semiconductor materials technologies.