Our strategy
IQE is focused upon delivering enabling technology which meets performance and price points, and which can be delivered reliably, on-time, and with the ability to scale rapidly.


Progress on strategy
Investing in the Future of Compound Semiconductors
Strategic Goal
Progress

Leveraging and expanding the IP Portfolio
Developing and launching new products
Targeting new market entry
Innovation in integration and miniaturisation

Expansion of VCSEL portfolio with turnkey IQVCSEL™ product line
Achievement of key power and reliability milestones for its IQDN-VCSEL™ technology for advanced sensing applications at longer wavelengths on 150 mm GaAs substrates
Scaling of IQE's VCSEL on Ge technology (IQGeVCSEL) to 200 mm
Focussing our development programmes on market driven solutions. Longer term developments such as cREO® and PQC are being de-prioritised in the short term
Expanding IP Portfolio – eight new grants and five patents registered in 2021

Scaling the Business for Growth
Strategic Goal
Progress

Expand Group capacity
Qualify customers in strategic markets
Enhance management controls, systems and processes to enable mass production

Capital expenditure of £15.1m focussed on deployment of additional tools to meet demand for IQE's Wireless products in Asia
The project to close IQE's Pennsylvania US site by 2024 and consolidate the Group's US MBE development and production at the North Carolina US site is on track
Business systems and process transformation programme on track to provide a consistent, agile and scalable platform for business growth
Several key appointments made to strengthen the management team

Expanding Margins and Cashflows
Strategic Goal
Progress

Superior unit economics from superior yields and economies of scale
Customer and market diversification
Developing relationships as a materials solutions provider

Closure of IQE's Singapore site by mid-2022, realising c.£4.8m per annum of cash savings
Long-term strategic collaboration agreement signed with GlobalFoundries® to develop vital GaN on Si technologies for mobile and wireless infrastructure applications
Multi-year strategic partnership signed with a major semiconductor foundry to develop epiwafers for 5G small cells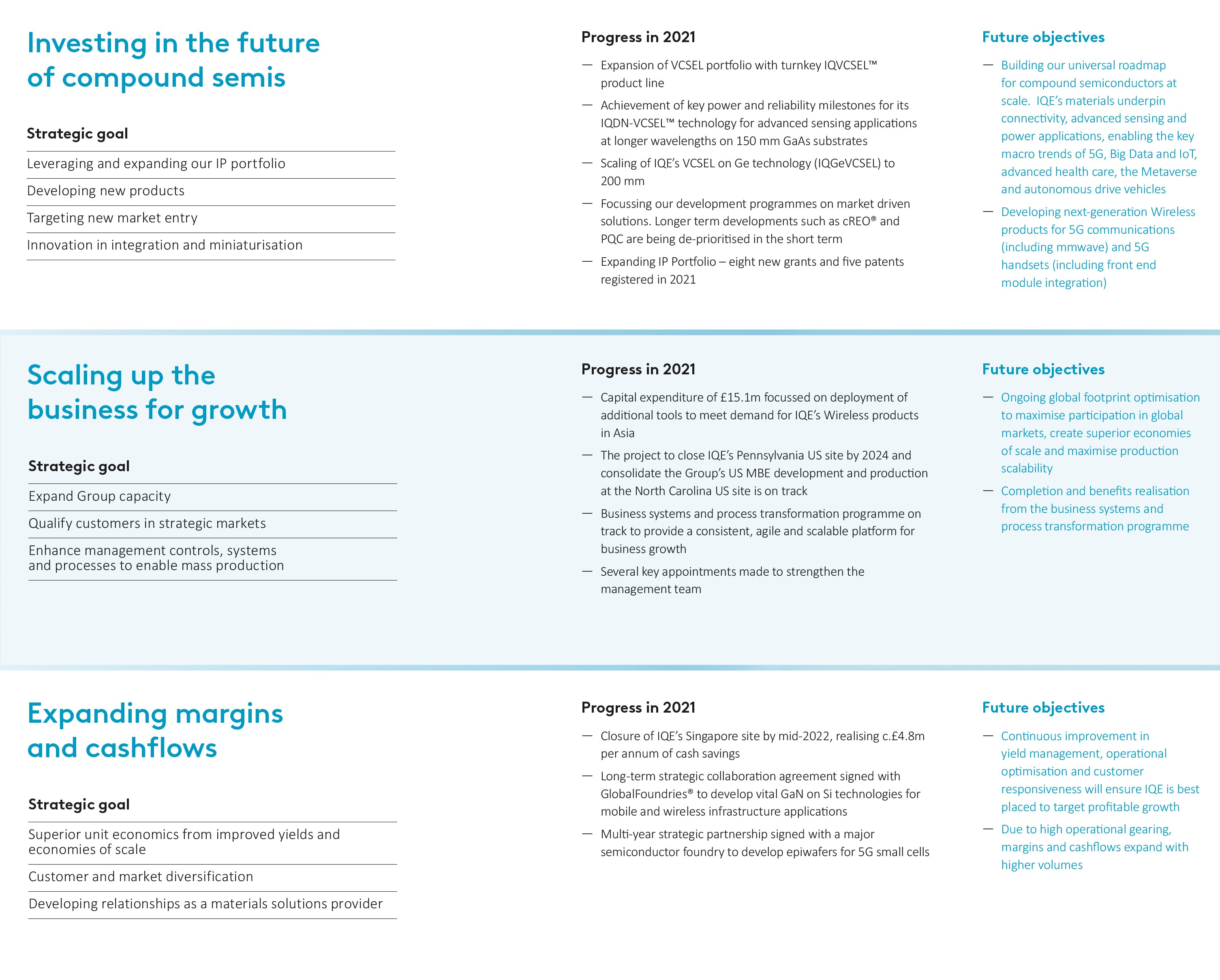 *Report on strategic progress as detailed in our Annual Report and Accounts 2021.