Why IQE?
IQE is targeting multi-year growth as the leader in a market set to expand due to new large-scale technology trends.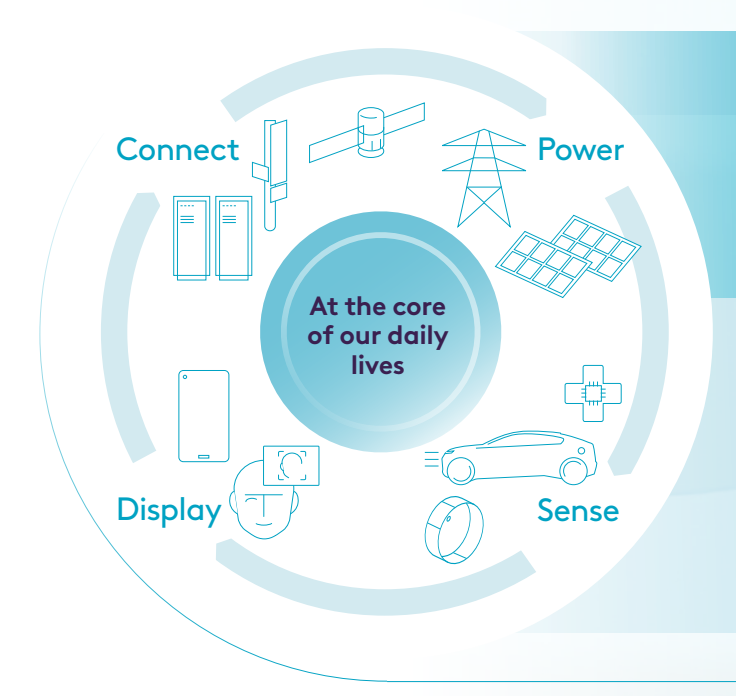 With over thirty years' of experience and a deep commitment to research and development, our technologies are world- class. We are constantly innovating and supplementing our core capabilities with new products and systems. As a materials solutions provider, IQE is embedded within supply chains for a broad range of technology products. We work closely with our immediate customers, the chip-makers, and their customers, the original equipment manufacturers, to develop solutions with their required performance and quality characteristics.
The proliferation of 5G will revolutionise communications and connectivity in the coming years and IQE's technology is at the heart of this transformation. Connected devices are becoming ever more present in our lives and as 5G connectivity evolves into true high-speed, high-capacity and low- latency networks, the possibilities for device connection, automation and machine learning increase. This is the much heralded world of the Internet of Things, and the unique properties of compound semiconductors enable IQE's material solutions to power a multitude of advanced applications.
IQE innovates and manufactures on three continents and our state-of-the-art facilities utilise the broadest range of technology platforms in our markets. Our extensive customer qualifications mean we are deeply embedded within our customers' supply chains and we offer resilience in supply security and production flexibility through these multi-site qualifications. Our unique international reach also means we are well-positioned to serve a broad customer base and adapt to changes in global technology markets, as well as enabling us to access global talent pools.
Our Intellectual Property (IP) portfolio encompasses a wide range of products born out of three decades of experience. We generate IP in each of our manufacturing facilities around the world, contributing to our broad market access. Our IP portfolio covers patented technologies, material systems and processes, as well as know-how and experience which is kept confidential. Our ability to provide our customers with multiple IP-protected material solutions enables them to bring world-leading products to market.
From our highly-experienced Board and executive management team, to our technical and operational staff, the skill and experience of our people sets us apart. IQE is a home for the best and brightest talent in the world of advanced materials and the breadth and depth of the expertise of our workforce is unmatched. We nurture our talented people through both training and extensive on-the-job development, and working for IQE provides an exciting and stimulating global career path for people with a diverse range of skills.
Our process specialisation and host of competitive advantages are the reason we are the world's leading scaled epitaxy provider. Our significant market differentiators enable us to deliver world-leading quality, service, products and value. This combination enables IQE to produce the best quality and highest yielding wafers which in-turn generates superior unit economics for our customers. We aim to be the first choice supplier for all of our customers and as the markets for our technologies expand, our strategy will ensure we remain number one.
Our market opportunity
We see huge potential for market growth over the next 5 years based on the macro trends that are driving demand for IQE's broad range of technologies. These include:
Global roll out of base stations and small cells
GaN on SiC
GaN on Si
Next generation lasers for fibre optics (10G & 25G DFBs, APDs and PINs)
Next generation, high-efficiency Power Amplifiers
Front End Module Integration
5G Filters and Switches
Facial recognition
'World facing' cameras enabling Augmented Reality
Structured Light and Time of Flight (ToF) solutions
Long-Wavelength VCSELs
Military Applications
Consumer and commercial devices
Proximity Sensing
Gesture Control
Environmental and Health Monitoring
In-cabin automotive and LiDAR
Lasers for high-speed datacoms
Delivering shareholder value